L'impossible et l'utile dans les études géographiques de Antonio Snider Pellegrini, précurseur de la théorie de la dérive des continents
Abstract
Se plonger dans l'héritage du géographe, homme d'affaires et collectionneur Antonio Snider Pellegrini (1802-1885) signifie réunir l'ensemble des pièces d'un puzzle vieux d'un siècle et demi ce qui fut presque entièrement résolu ces derniers mois. Tout d'abord, il convient de préciser que, contrairement à ce que l'on a pu lire dans la quasi-totalité des sources encyclopédiques, plus qu'un géographe «français», Snider Pellegrini peut être considéré comme italien à la lumière de son soutien aux patriotes italiens depuis les années trente de son siècle et de son engagement en faveur de l'affirmation de l'italianité de la cité autrichienne qui l'a vu grandir : Trieste. Cette lutte a été menée pendant cinquante ans, jusqu'à son décès à New York. Il est vrai qu'il avait reçu une éducation française dans la compagnie de commerce de Joseph Labrosse, nom sous lequel se cachait le comte Albert-François de Moré qui avait abandonné son château de Pontgibaud et était arrivé à Trieste à la fin du XVIIIe siècle pour échapper aux flammes de la Révolution Française. En vérité, il doit cet intérêt pour la géographie à la femme du comte, Jacqueline- Victoire Pecquet de Champloys, dont le jeune Antonio devint le secrétaire particulier. La section la plus volumineuse de la bibliothèque de la Comtesse était en effet consacrée à la littérature géographique. Le Voyage de la Troade de Jean-Baptiste Le Chevalier, le Voyage en Russie de Peter Simon Pallas, le Nouveau Dictionnaire d'Histoire naturelle, le Poème de la navigation de Joseph Esménard, le Voyage en Italie de Joseph-Jérôme Lalande, le Voyage en Grèce de Choiseul-Gouffier et ainsi de suite, sont autant d'ouvrages qui s'y côtoyaient.
References
"Career of an Italian Freethinker", The Truth Seeker, 12, 18, 1885.
De Incontrera O., "Giuseppe Labrosse e gli emigrati francesi a Trieste" (chapitre VIII), Archeografo Triestino, 20, 1955-1956, pp. 77-153.
Gamwell L., Exploring the Invisible: Art, Science, and the Spiritual, revised and expanded edition, Princeton, Oxford, Princeton University Press, 2020.
Modaffari G., La deriva di Antonio Snider Pellegrini, Milan, Unicopli, 2021.
Monmonier M., Drawing the Line. Tales of maps and cartocontroversy, New York, Henry Holt and Company, 1995.
Robb A.A., "Anticipation of Wegener's Hypothesis", Nature, 126, 3187, 1930, p. 841.
Snider Pellegrini A., Du développement du commerce de l'Algérie avec l'intérieur de l'Afrique et d'une route par terre d'Alger au Sénégal par Tombouctou, précédé d'observations sur l'Algérie et le Maroc, extrait du Bulletin de la Société de Géographie, Paris, Martinet, 1857.
Snider Pellegrini A., La Création et ses mystères dévoilés : ouvrage où l'on expose clairement la nature de tous les êtres, les éléments dont ils sont composés et leurs rapports avec le globe et les astres, la nature et la situation du feu du soleil, l'origine de l'Amérique et de ses habitants primitifs, la formation forcée de nouvelles planètes, l'origine des langues et les causes de la variété des physionomies, le compte courant de l'homme avec la terre, etc., Paris, Frank-Dentu, 1858.
Snider Pellegrini A., Nouvelle théorie sur la formation des comètes et leur raison d'être, Paris, Dentu, 1861.
Tiengou J.M., "Quinzaine littéraire", Gazette de France, 1858.
Wegener A., Die Entstehung der Kontinente und Ozeane, 4e édition, Braunschweig, F. Vieweg, 1929.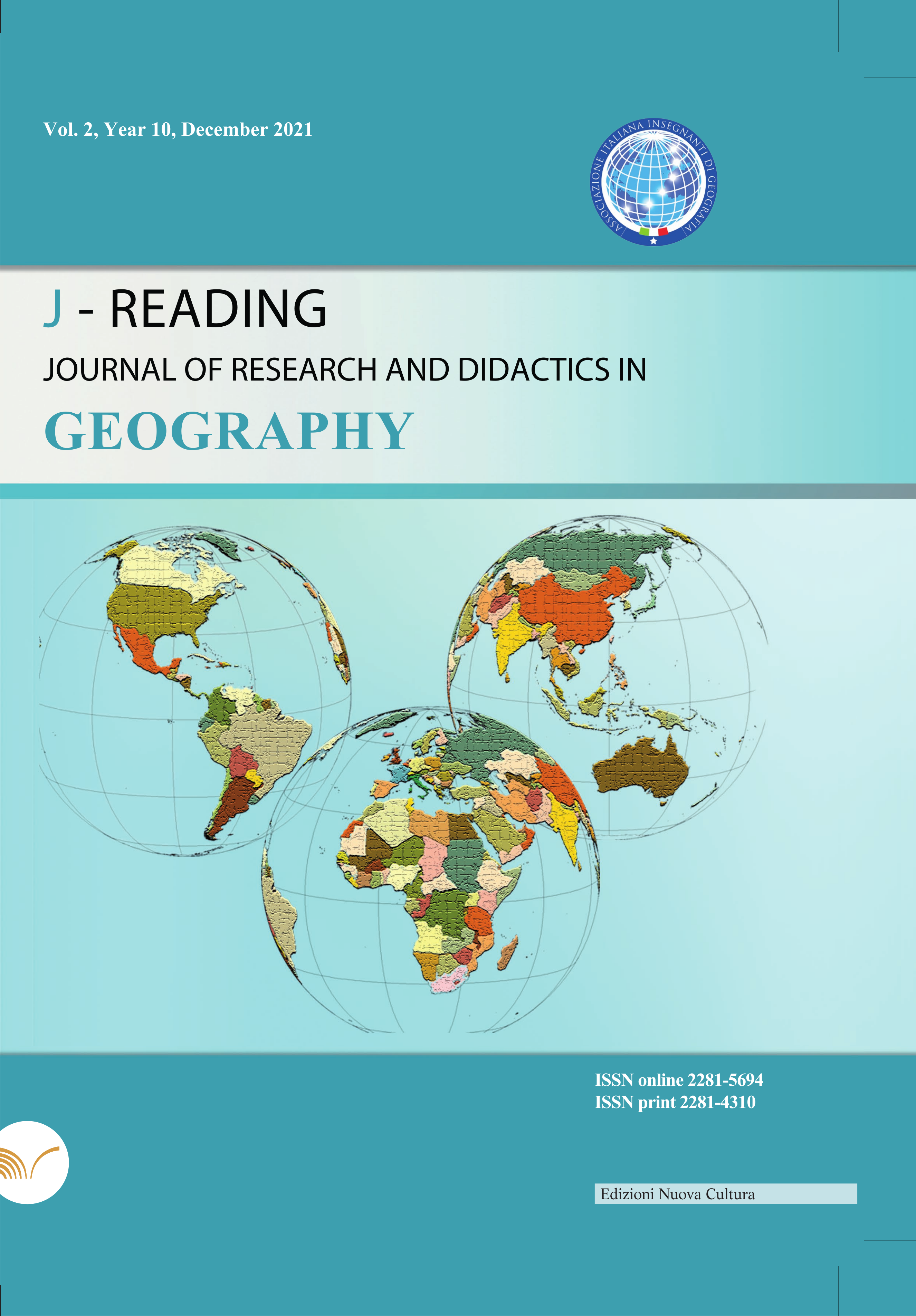 Downloads
Section
Teachings from the past (ed. by Dino Gavinelli and Davide Papotti)
License
The Author assigns to the Nuova Cultura and to Italian Association of Geography Teachers all rights under copyright that can exist in and to the submitted paper. The Author warrants that the paper and images (photos, maps, graphs etc.) are original and that he/she is the Author of the submitted contribution and its parts; in the case of images taken by other publications, the Author must provide a specific authorization and must pay in advance any copyright.

This work is licensed under a Creative Commons Attribution 4.0 International License.