Cultural heritage and storytelling: didactic applications in Trieste with ESRI Story Maps
Abstract
New mapping technologies available in our cloud computing era are the current challenge for a narrative geography of cultural heritage. The concept of digital storytelling becomes reality due to the existing webGIS applications. Using available web templates (such as ESRI Story Maps), users can mix narrative text, multimedia content (photos, video, etc.) and interactive web maps without strong GIS or web development skills. Therefore, they are also powerful tools in teaching and learning geography. This paper presents the main results of a didactic experience at the Department of Humanities, University of Trieste (Italy) about two icons of Trieste. We created two storymaps: the first focuses on the geographical features, legendary and urban impacts of Bora wind (storymap available at: https://arcg.is/14bDSz); the second is about the troubled history of a fascinating vehicle, the "Tram of Opicina" (storymap available at: https://arcg.is/0DHbje), a tramway line built at the beginning of the last century that connects the town of Trieste and the village of Opicina.
References
Andreotti G., "Rivelare il GeniusLoci", Bollettino della Società Geografica Italiana, XIII, VII, 2014, pp. 533-558.
Baricco A., The game, Turin, Giulio Einaudi Editore, 2018.
Bassano C., Barile S., Piciocchi P., Spohrer J.C., Iandolo F. and Fisk R., "Storytelling about places: Tourism marketing in the digital age", Cities, 87, 2019, pp. 10-20.
Battisti G., "Trieste e il suo porto. I modelli di riferimento di un'evoluzione urbana", in Cammarata M. (Ed.), Panorama di Trieste attraverso vedute e piante della collezione Davia, Trieste, La Mongolfiera, 1993, pp. 86-117.
Belci C., Il libro della Bora, Trieste, Lint Editoriale, 2003.
Beller M. and Leerssen J., Imagology. The cultural construction and literary representtation of national characters, Amsterdam, Editions Rodopi, 2007.
Berendsen M.E., Hamerlinck J.D. and Webster G.R., "Digital story mapping to advance educational atlas design and enable student engagement", ISPRS International Journal of Geo-Information, 7, 125, 2018.
Berlam A., "Il sapore di Trieste", La Porta Orientale, Rivista Giuliana di Storia Politica e Arte, 7-8-9, XVII, 1947, pp. 107-113.
Carbone L., "Il Digital Storytelling per la formazione di esperti di Beni e Sistemi Culturali", in Arcangioli C. and Sarto M.S. (Eds.), Proceedings of I Convegno annuale, (Rome, 30 settembre 2019), Rome, L'Erma di Bretschneider, 2020.
Casti E., Cartografia Critica, dal Topos alla Chora, Milan, Guerini e Associati, 2018.
De Vecchis G., Pasquinelli d'Allegra D. and Pesaresi C., Didattica della Geografia, Milan, UTET, 2020.
Facchini M., "Architetture di pietra nell'Altipiano carsico. Forme insediative e tecniche costruttive nell'edilizia storica", Ph.D. Thesis, Università degli Studi di Bologna, Bologna, 2012.
Favretto A., "Database relazionali e GIS per la gestione dei beni culturali ed ambientali", in Mautone M. and Ronza M. (Eds.), Patrimonio culturale e paesaggio, Un approccio di filiera per la progettualità territoriale, CNR – Dipartimento Patrimonio Culturale, Naples, Gangemi Editore, 2007, pp. 77-82.
Favretto A., Cartografia nelle nuvole, Bologna, Patron Editore, 2016.
Favretto A., "Tecnologia Webmapping per la diffusione della cartografia: alcune riflessioni", Semestrale di Studi e Ricerche di Geografia, XXIX, 1, 2017, pp. 77-85.
Fontana A., Manuale di Storytelling: Raccontare con efficacia prodotti, marchi e identità d'impresa, Segrate, Rizzoli Etas, 2013.
Hagget P., Geografia umana. Una scienza di sintesi, Bologna, Zanichelli, 2004
Haklay M., Singleton A. and Parker C., "Web Mapping 2.0: the Neogeography of the GeoWeb", Geography Compass, 2/6, 2008, pp. 2011-2039.
Hénin R., "Dynamics of Bora wind over the Adriatic Sea: atmospheric water balance and role of air-sea fluxes and orography", Master Thesis, Università di Bologna, 2015.
Jeannotte M.S., "Story-telling about place: Engaging citizens in cultural mapping", City, Culture and Society, 7, 1, 2016, pp. 35-41.
Kerski J.J., "Understanding our changing world through web-mapping based investigations", J-READING (Journal of Research and Didactics in Geography), 2, 2, 2013, pp. 11-26.
Kerski J.J., "Geo-awareness, geo-enablement, geotechnologies, citizen science, and storytelling: Geographyon the world stage", Geography Compass, 9, 1, 2015, pp. 14-26.
Kirby J., Faulkner J. and Perrin J., "'Once there was a…': Reclaiming storytelling in the middle years", Literacy Learning: The Middle Years, 22, 2, 2014, pp. i-x.
Lombardi R., LaBORAtorio.Alla scoperta del vento di Trieste, Trieste, Editoriale Scienza, 2010.
Maggioli M., "Dentro lo Spatial Turn: luogo e località, spazio e territorio", Semestrale di Studi e Ricerche di Geografia, XXVII, 2, 2015, pp. 51-66.
Maggioli M. and Morri R., "Tra geografia e letteratura: realtà, finzione, territorio", Quaderni del '900, IX, 2009, pp. 53-70.
Mangano S., I territori culturali in Italia: geografia e valorizzazione turistica, Rome, Carrocci, 2018.
Marta M. and Osso P., "Story Maps at school: teaching and learning stories with maps", J-READING (Journal of Research and Didactics in Geography), 2, 4, 2015, pp. 61-68.
Mauro G., "Paesaggi terrazzati in Costiera triestina tra problematiche di abbandono ed ipotesi di rivalutazione turistica", Documenti Geografici, 2, 2015, pp. 67-89.
Museo della Bora (MB), I luoghi della Bora: una piccola guida per vivere l'unicità di Trieste e conoscerla attraverso il suo vento, Trieste, Consorzio PromoTrieste (Discover Trieste, progetto Bora museum), 2016-2018.
Nacci L., Trieste selvatica, Bari, Edizioni Laterza, 2019.
Pesaresi C., "From Education to Job Opportunities. Defining Professional Profiles for Geographers with High Competences in GIS Environment", in Tambassi T. (Ed.), The Philosophy of GIS. Springer Geography, Cham, Springer, 2019, pp. 253-264.
Pollice F., Rinella A., Epifani F. and Miggiano P., "Placetelling® as a strategic tool for promoting niche tourism to islands: the case of Cape Verde", Sustainability, 12, 10, 4333, 2020.
Ragone G., "Storytelling, Immaginari, Heritage", Calabrese S. and Ragone G. (Eds.), Transluoghi. Storytelling, beni culturali, turismo esperienziale, Naples, Liguori Editore, 2007, pp. 41-60.
Rasman S., Cent'Anni col Tram, Trieste, MGS Press, 2002, pp. 30-58.
Regione Autonoma Friuli Venezia Giulia (RAFVG), Le proposte culturali in Friuli- Venezia Giulia tra grandi eventi e tradizioni locali, Trieste, 2020, https://www.regione. fvg.it/rafvg/cms/RAFVG/GEN/statistica/FO GLIA59/.
Ronza M. and Scherbi M., "Turismo smart e patrimonio culturale: un App per il centro storico di Gaeta", Annali del Turismo, VII, 2018, pp. 105-124.
Ruocco D., "Beni culturali e Geografia", Studi e Ricerche di Geografia, II, 1, 1979, pp. 1-16.
Scanu G. and Podda C., "Cartografia e turismo in aree rurali", Bollettino dell'Associazione Italiana di Cartografia, 158, 2016, pp. 167-182.
Strachan C. and Mitchell J., "Teachers' Perceptions of Esri Story Maps as Effective Teaching Tools", Review of International Geographical Education Online (RIGEO), 4, 3, 2014, pp. 195-220.
Stravisi F., "Il regime dei venti a Trieste (1951-1975)", Bollettino Società Adriatica di Scienze, 61, 1977, pp. 87-104.
Turri E., Il paesaggio come teatro. Dal territorio vissuto al territorio rappresentato, Venice, Marsilio Editore, 1998.
Walshe N., "Using ArcGIS Online story maps". Teaching Geography, 41, 3. 2016, pp. 115-117. 44. Zamperlin P. and Azzari M., "The Smart City I Would Like. Maps and Storytelling in Teaching Geography", J-READING (Journal of Research and Didactics in Geography), 1, 6, 2017, pp. 17-28.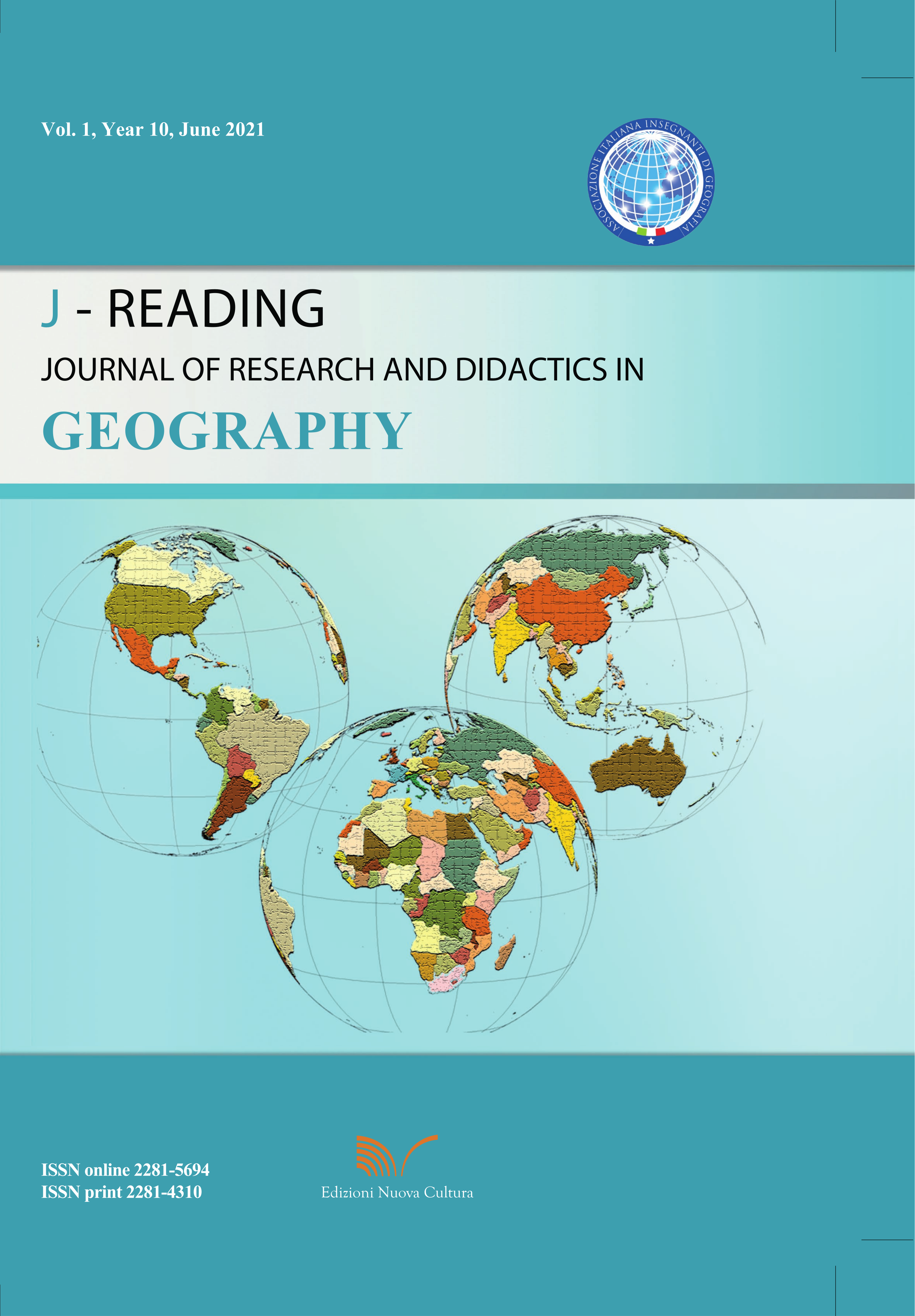 Downloads
License
The Author assigns to the Nuova Cultura and to Italian Association of Geography Teachers all rights under copyright that can exist in and to the submitted paper. The Author warrants that the paper and images (photos, maps, graphs etc.) are original and that he/she is the Author of the submitted contribution and its parts; in the case of images taken by other publications, the Author must provide a specific authorization and must pay in advance any copyright.

This work is licensed under a Creative Commons Attribution 4.0 International License.