The Impact of COVID-19 on Geography, GIS, and Education
Abstract
The COVID-19 pandemic is affecting the education sector in profound ways. Particularly in the fields of geography and geographic information systems (GIS), educators are responding by using modern, web-enabled GIS with spatial analytical tools, streaming data services, maps and web mapping applications, and virtualization techniques to teach these subjects online. They are also expanding their collaboration with colleagues since increased awareness and use of interactive maps and dashboards by the general public stimulated interest in spatial thinking with a result of GIS technologies being newly incorporated into several academic disciplines. In fact, COVID-19 itself offers a rich opportunity for meaningful lessons in the value of interactive mapping and analytical tools. Outside of the educational process, the pandemic has also inspired increased use of geographic perspectives and technologies in decisions about when, where, and at what scale to reopen educational institutions.
References
Chiappinelli, C. 2020. Think Tank: How to reopen the workplace during COVID-19. WhereNext, 12 May. https://www.esri.com/about/newsroom/publications/wherenext/reopening-the-workplace/
Geraghty, E. 2020a. Mapping Epidemics: From SARS, Zika, and Ebola to the Pandemic of COVID-19. https://www.esri.com/about/newsroom/blog/maps-that-mitigate-epidemics/ Esri Blog. 26 March.
Geraghty, E. 2020b. To Balance Priorities in a COVID-19 World, Geography Matters. https://www.esri.com/about/newsroom/arcnews/to-balance-priorities-in-a-covid-19-world-geography-matters/. ArcNews. Summer.
Kerski, J. 2019a. GIS in Higher Education. xyHT Magazine. https://www.xyht.com/spatial-itgis/gis-in-higher-education/.
Kerski, J. 2019b. Teaching about political boundaries using WebGIS tools and data. The Geography Teacher 16(4): 179-181.
Tait, C. 2020. Facility mapping solutions for COVID-19 recovery. ArcGIS Blog. 19 May. https://www.esri.com/arcgis-blog/products/arcgis-indoors/mapping/facility-mapping-solutions-for-covid-19-recovery/
UCGIS: University Consortium on Geographic Information Science. 2020. https://www.globalgiscienceeducation.org/conversations.
WHO, World Health Organization, 2020. WHO Director-General's Opening Remarks at the media briefing on COVID-19. https://www.who.int/dg/speeches/detail/who-director-general-s-opening-remarks-at-the-media-briefing-on-covid-19---11-march-2020. 11 March.
Wright, D. 2020. How Esri Contributes to--and advances--Science. https://www.esri.com/about/newsroom/arcnews/how-esri-contributes-to-and-advances-science/. ArcNews, Esri, Summer 2020.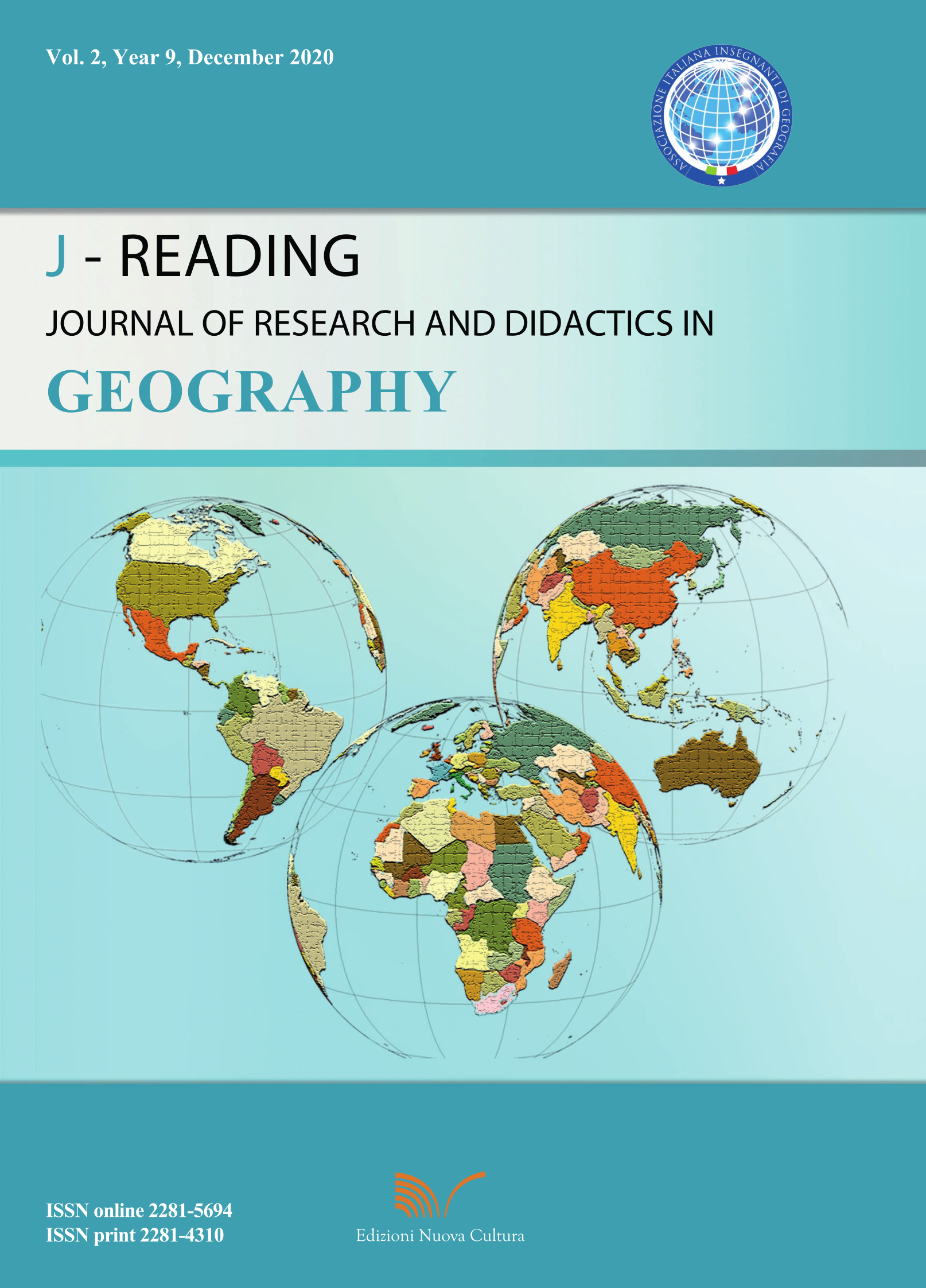 Downloads
Section
A geographical and crosscutting look at the COVID-19 pandemic in an international framework (ed. by Cristiano Pesaresi)
License
The Author assigns to the Nuova Cultura and to Italian Association of Geography Teachers all rights under copyright that can exist in and to the submitted paper. The Author warrants that the paper and images (photos, maps, graphs etc.) are original and that he/she is the Author of the submitted contribution and its parts; in the case of images taken by other publications, the Author must provide a specific authorization and must pay in advance any copyright.

This work is licensed under a Creative Commons Attribution 4.0 International License.