Geographic Knowledge. Paradigm of Society 5.0
Abstract
Thanks to the Digital Revolution, Geographic Knowledge (Geoknowledge) has enhanced its capacity andtechnologies, thus becoming a source of value creation in the ecosystem of knowledge. Through the developmentof ESRI technologies, which allow the integration of WebGIS with Artificial Intelligence, the Internetof Things and aerospace Big Data, the Science of Where is defining new ways of designing and experiencingthe environment and the city. In this initial phase of the Digital Revolution it is essential to affirmthe paradigm of a society, called "Society 5.0", capable of responding to the challenges of its owntime, balancing economic progress with solutions to social problems. The enabling factor of this paradigmis the Science of Where and the thesis that the Science of Where is the enabling factor of the paradigm thatimplements Society 5.0 is fascinating, but has to be demonstrated. In order to prove this thesis, holistic experimentationis necessary, which involves all the actors present in the theater of society in order to demonstratethe benefits of this philosophy in this field through the exercise of good practices. For this reason,ESRI Italia recently set up a laboratory to conduct experiments at its regional office in Cagliari (Italy). Theexperimentation is scheduled in a project called Sardinia 5.0. The Laboratory is equipped with all the infrastructures,technologies and data necessary for specialists to perform the assessment of the social impact ofexisting initiatives and the construction of scenarios for a possible future.
References
Baban A., Cirrincione A. and Mattiello A., Mind the Change. Capire il cambiamento per progettare il business del futuro, Mi-lan, goWare & Guerini Next, 2017.
Chatwin B., The Songlines, London, Jonathan Cape, 1987.
Foresman T.W., The History of Geograph-ic Information Systems: Perspectives from the Pioneers, Prentice Hall PTR, 1998.
Ratti C., The City of Tomorrow: Sensors, Networks, Hackers, and the Future of Ur-ban Life, Yale University Press, 2016.
Wurman R.S., UnderstandingUnderstand-ing, Wurman, 2017.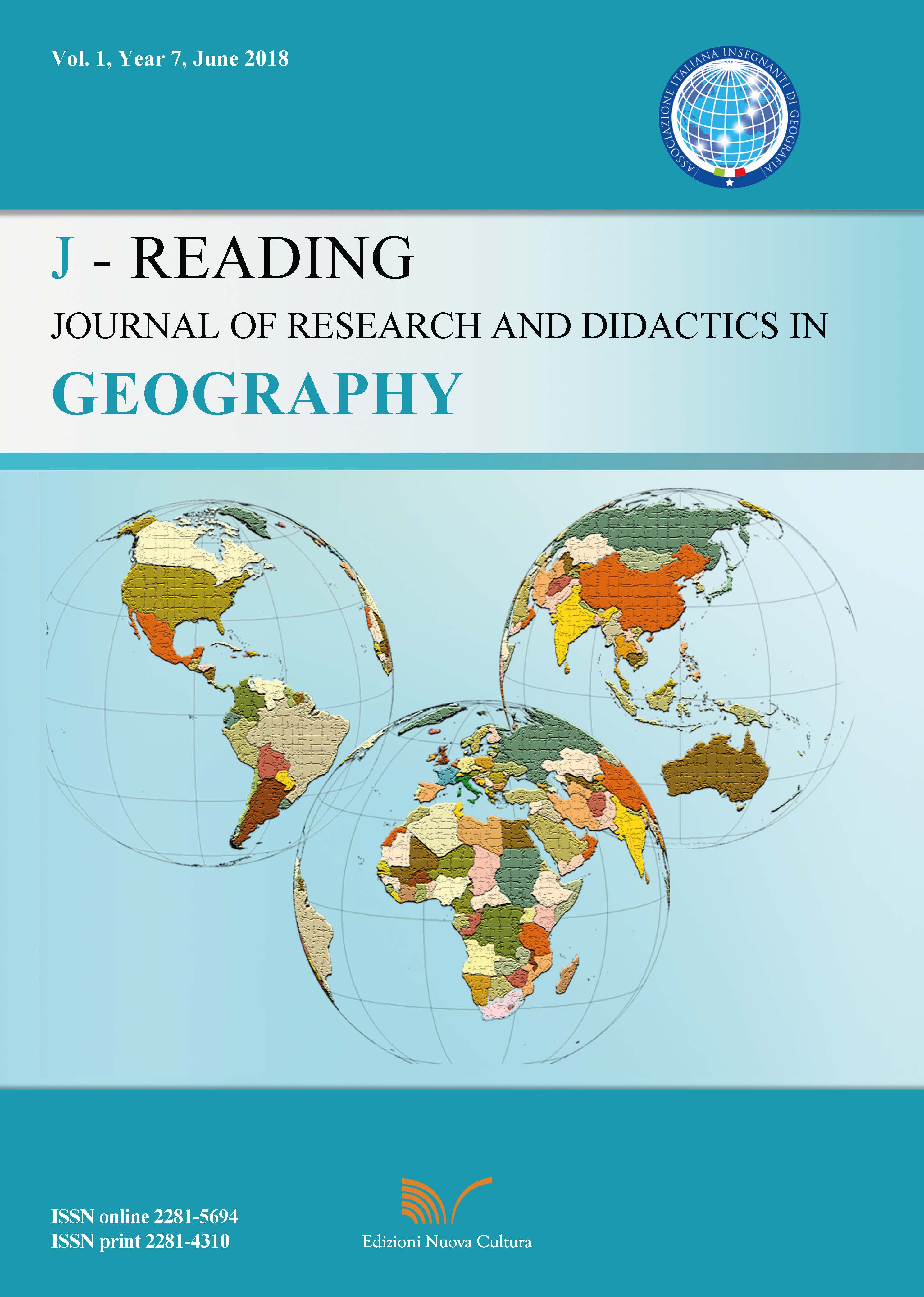 Downloads
Section
Geographical notes and (practical) considerations
License
The Author assigns to the Nuova Cultura and to Italian Association of Geography Teachers all rights under copyright that can exist in and to the submitted paper. The Author warrants that the paper and images (photos, maps, graphs etc.) are original and that he/she is the Author of the submitted contribution and its parts; in the case of images taken by other publications, the Author must provide a specific authorization and must pay in advance any copyright.

This work is licensed under a Creative Commons Attribution 4.0 International License.