Ports and hinterland connections: what do we really know? An empirical analysis in South-Eastern Europe
Abstract
The role of ports relative to the territory seems to be not well addressed by existing analytical approaches regarding multimodal transport networks. Available port statistics usually report sea-side point transport data, while data about multimodal hinterland connections (inbound and outbound) is scant or simply non-existent. At the same time, land-based origin-destination transport data traditionally does not include port-related information determining a misspecification of existing land-based transport models. There is then the need to address such gaps by proposing approaches and methods to improve the analytical framework of multimodal transport networks and support effective EU, regional and national transport policies. The paper aims at filling such gaps with regards to a specific geographical area, e.g., the South-Eastern Europe. An approach is proposed to collect currently missing data so as to elaborate geographical modelling tools to support an improved analytical framework and policymaking in the area. Data collection processes are carried out based on a questionnaire format to get original, on-the-field added value data. Geographical tools (GIS) are then employed to support a strategic assessment of the role of ports relative to the territory. Results provide insights to get a better picture of the multimodal transport networks in the region, thus, supporting more effective policies at the EU level.
References
Amato V. (Ed.), La nuova centralità del Mediterraneo, Rome, Aracne, 2017.
Black, W., Transportation: A Geographical Analysis, New York, Guilford, 2003.
Borruso G., "Informazione geografica e reti geografiche: interazioni spaziali tra fenomeni di rete e tessuto urbano", in Atti di Input 2001, Informatica e Pianificazione Urbana e Territoriale, Democrazia e Tecnologie, Isole Tremiti, 2001.
Borruso G., Geografie di rete. Infrastrutture, regioni, città, Bologna, Pàtron Editore, 2011.
Borruso G. and Borruso G., "Il porto di Trieste: analisi del traffico, impatto economico e prospettive di sviluppo", in SRM, Trasporto Marittimo e Sviluppo Economico. Scenari Internazionali, Analisi del Traffico e Prospettive di Crescita, Naples, Giannini Editore, 2012, pp. 235-274.
Borruso G., Bradaschia C. and Borruso G., "Le infrastrutture di trasporto terrestre a sostegno dei traffici portuali triestini", in Finzi R., Panariti L. and Panjek G. (Eds.), Storia Economica e Sociale di Trieste, II, Trieste, La città dei Traffici, LINT, 2003, pp. 759-806.
Borruso G., Donato C. and Nodari P., "La politica dei trasporti per l'integrazione della nuova Europa", in Scritti in onore di Alberto di Blasi, Bologna, Patron, 2006.
Camera dei deputati, "Edilizia, infrastrutture e trasporti. La politica europea dei trasporti e le reti TEN-T", https://temi.camera.it/leg17 /temi/le_reti_tent.
Camera dei deputati, "Il Green deal, il Recovery Fund e il Piano nazionale di ripresa e resilienza", https://temi.camera.it/leg18/ post/il-green-new-deal-europeo.html.
Capineri C., "Le reti di comunicazione e la rappresentazione dello spazio. Un percorso geografico", in Reti, mobilità, trasporti, Milan, Franco Angeli, 2004, pp. 151-166.
Capineri C. and Tinacci Mossello M. (Eds.), La geografia delle comunicazioni: reti e strutture territoriali, Turin, G. Giappichelli Editore, 1996.
Conti S., De Matteis G. and Nano F., "Geografia dell'economia mondiale", Padua, UTET, 2022.
Ducruet C. and Bunel M., "Le transport maritime et les ports", L'Océan à découvert, 1, 2017, pp. 136-137.
Giannopoulos G.A., "Main transport challenges in South Eastern Europe, after enlargement", European Transport/Trasporti Europei, 30, 2005, pp. 3-13.
Goetz A.R., Vowles T.M. and Tierney S., "Bridging the Qualitative-Quantitative Divide in Transport Geography", The Professional Geographer, 61, 3, 2009, pp. 323-335.
Grčić M. and Ratkaj I., "Transport corridors as a factor of integration in South-Eastern Europe", Collection of papers of the Geographical institute "Jovan Cvijić", 53, 2004, pp. 7-25.
Guerrero D. and Rodrigue J.P., "The waves of containerization: shifts in global maritime transportation", Journal of Transport Geography, 34, 2014, pp. 151-164.
Hall D., "Transport geography and new European realities: a critique", Journal of Transport Geography, 18, 1, 2010, pp. 1-13.
Haralambides H., "Globalization, public sector reform, and the role of ports in international supply chains", Maritime Economics & Logistic, 19, 1, 2017, pp. 1-51.
Hennig B.D., "Visualising Spaces of Global Inaccessibility" in Carver S. and Fritz S. (Eds.), Mapping wilderness: concepts, techniques and applications of GIS. Heidelberg/New York/Dordrecht/London, Springer, 2016, pp. 103-116.
Hoyle B. and Knowles R. (Eds.), Modern Transport Geography, Second Edition, London, Wiley, 1998.
Infostrasporti, "TEN-T e i corridoi intermodali", https://www.infotrasporti.com/ten-t-e-i-corridoi-intermodali-le-9-linee-e-i-corridoi-che-collegano-lintera-europa/.
Keeling D.J., "Transportation Geography: New Directions on Well-Worn Trails", Progress in Human Geography, 31, 2, 2007, pp. 217-225.
Keeling D.J., "Transportation Geography – New Regional Mobilities", Progress in Human Geography, 32, 2, 2008, pp. 275-283.
Kolios S., Stylios C. and Petunin A., "A WebGIS platform to monitor environmental conditions in ports and their surroundings in Southeastern Europe", Environmental monitoring and assessment, 187, 2015, 574.
Lucarno G., "L'allargamento dell'Unione Europea e le nuove prospettive nella geografia dei trasporti per i traffici delle merci fra C.S.I. ed Europa occidentale", L'Universo, Rivista dell'Istituto Geografico Militare, LXXVII, 6, 1997, pp. 750-760.
Lucarno G., "Flussi di trasporto fra l'Italia e l'Europa centro orientale e balcanica: linee guida per un progetto di ricerca sullo sviluppo infrastrutturale", in Calafiore G., Palagiano C. and Paratore E. (Eds.), Atti del XXVIII Congresso Geografico Italiano, Vecchi territori, nuovi mondi: la Geografia nelle emergenze del 2000, Rome, Edigeo, I, 2003, pp. 765-774.
Mazzarino M., "Strategic scenarios of global logistics: what lies ahead for Europe?", European Transport Research Review, 4, 1, 2012, pp. 1-18.
Mazzarino M., "Scenari mediterranei: il ruolo del trasporto e della logistica nell'ambito della teoria della New Economic Geography – un contributo originale", in L'Europa e il Mediterraneo. Profili giuridici ed economici. Bologna, Il Mulino, 2013.
Merlin P., Géographie des Transports, Que sais-je?, Paris, Presses Universitaires de France, 1992.
Musso E. and Ghiara H., Ancorare i porti al territorio. Dai traffici alla marittimizzazione, Milan, McGraw Hill, 2007.
Ng A.K.Y., "The evolution and research trends of port geography", The Professional Geographer, 65, 1, 2013, pp. 65-86.
Ng A.K.Y., Ducruet C., Jacobs W., Monios J., Notteboom T., Rodrigue J.P., Slack B., Tam K.C. and Wilmsmeier G., "Port geography at the crossroads with human geography: between flows and spaces", Journal of Transport Geography, 41, 2014, pp. 84-96.
Niavis S. and Tsekeris T., "Ranking and causes of inefficiency of container seaports in South-Eastern Europe", European Transport Research Review, 4, 4, 2012, pp. 235-244.
Notteboom T. and Rodrigue J.-P., "The Corporate Geography of Global Terminal Operators", Maritime Policy & Management, 39, 2012, pp. 3.
Petrlić A. and Pavletić N., "Benchmarking Analysis of Factors Influencing Container Traffic in the Port of Rijeka", Pomorstvo, 33, 2, 2019, 119-129.
Prezioso M., "Un approccio geografico alle politiche pubbliche: teorie e pratiche. Introduzione", in Salvatori F. (Ed.), L'apporto della Geografia tra rivoluzioni e riforme, Rome, AGeI, 2019, pp. 3129-3130.
Rete ferroviaria italiana, "Corridoi TEN-T. L'asse portante della Trans European Network Transport", https://www.rfi.it/it/rete /in-europa/corridoi-ten-t.html.
Rimmer P., "Transport Geography", Progress in Human Geography, 10, 1985, pp. 271-277.
Rodrigue J.-P., The Geography of Transport Systems, Fourth Edition, London, Routledge, 2017.
Rodrigue J.P., Comtois C. and Slack B., The Geography of Transport Systems, Abingdon, Taylor & Francis Group, 2016.
Shaw J. and Sidaway J.D., "Making links: On (re)engaging with transport and transport geography", Progress in Human Geography, 35, 4, 2011, pp. 502-520.
Taaffe E.J., Gauthier H.L. and O'Kelly M.E., Geography of Transportation, Second Edition, Upper Saddle River, NJ, Prentice Hall, 1996.
Tadić S., Kovač M., Krstić M., Roso V.E and Brnjac N., "The Selection of Intermodal Transport System Scenarios in the Function of Southeastern Europe Regional Development", Sustainability, 13, 10, 2021.
Tadić S., Kovač M., Zecevic S.E. and Krstić M., "Implementation of the dry port concept in the West Balkans region", Proceedings of the VII International symposium: New Horizons of Transport and Communications, Doboj, Republic of Srpska, 2019, pp. 29-30.
Tadini M., "Lo scenario infrastrutturale e dell'intermodalità trasportistica", in Emanuel C. and Tadini M. (Eds.), Progettare il cambiamento. Analisi, scenari e strategie per il quadrante territoriale del Nord-est piemontese, Vercelli, Mercurio Edizioni, 2010, pp. 37-70.
Tadini M., "I flussi globali di container: la recente evoluzione della geografia portuale mediterranea e italiana", Eyesreg Giornale di Scienze Regionali, 2, 5, 2012, pp. 125-129.
Tadini M., La geografia del sistema economico globale. Il ruolo dei mercati emergenti, Rome, Aracne, 2017.
Tolley R. and Turton B., Transport Systems, Policy and Planning: A Geographical Approach, Burnt Mill, Harlow, Essex, Longman, 1995.
Ugolini G.M., "Per una (im)possibile centralità geopolitica del Mediterraneo", in Marconi M. and Sellari P. (Eds.), Verso un nuovo paradigma geopolitico, Rome, Aracne, 2015, pp. 345-358.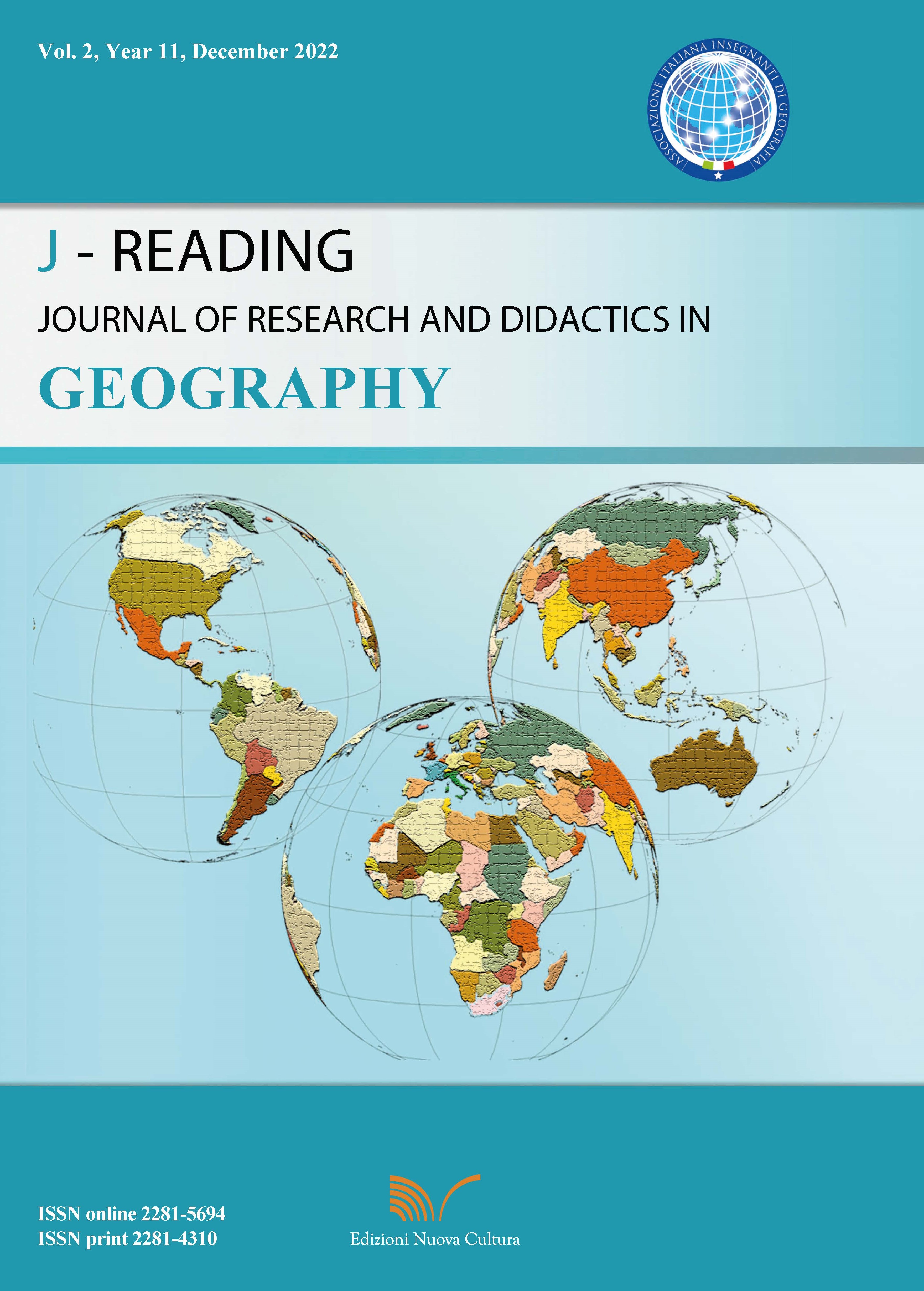 Downloads
Section
Topics on Geography of Transport and Logistics ed. by Borruso, Mazzarino, Tadini
License
The Author assigns to the Nuova Cultura and to Italian Association of Geography Teachers all rights under copyright that can exist in and to the submitted paper. The Author warrants that the paper and images (photos, maps, graphs etc.) are original and that he/she is the Author of the submitted contribution and its parts; in the case of images taken by other publications, the Author must provide a specific authorization and must pay in advance any copyright.

This work is licensed under a Creative Commons Attribution 4.0 International License.