Globalization 2.0: Rethinking global trade in light of sustainability imperatives
Abstract
If we were to consider the negative externalities of international transport, it is doubtful that the flows of goods would remain the same as the current ones, re-shoring could perhaps not be decisive but help this probability. However, globalization confronts us with the advantages but also with the disadvantages that now follow at various levels. Environmental sustainability can represent a challenge to globalization, or an ally capable of involving global society which, through appropriate policies, achieves the ability to incorporate the costs of environmental protection and respect, for example, for human rights without substantial consequences for global production chains, and therefore for global transport. How can we effectively reduce the environmental and social costs associated with globalization without damaging our competitiveness and in the light of the recent war conflict still in progress and whose end it is not possible to predict?
References
Ainis B., "Delocalizzazione addio. È ora di back reshoring", 2014, https://www.master meeting.it/Upload/magazine/database/riviste_pdf/142/57%20Back%20reshoring%20%20(Trend).pdf.
Antras P., "Deglobalizzazione? Le catena del valore e il terremoto in corso. La globalizzazione marcia ancora, occhio però alle disuguaglianze", 2022,
https://www.fidelityitalia.it/articoli/webcasts/2022-05-26-deglobalizzazione-le-catena delvalore-e-il-terremoto-corso-1653565686668.
Barbieri P., Boffelli A., Di Stefano C., Elia S., Fratocchi L., Kalchschmidt M. and Pensa C., "Processi di reshoring nella manifattura italiana", Rivista di Politica Economica. La distanza e l'incertezza. Percorsi della manifattura globale negli anni degli shock sistemici, 1, 2022, pp. 79-114.
Barbieri P., Elia S., Fratocchi L. and Golini R., "Relocation of second degree: moving towards a new place or returning home?" Journal of Purchasing and Supply Management, 25, 3, 2019, pp. 1-14.
Baronchelli G., La Delocalizzazione nei Mercati Internazionali. Dagli IDE all'Off-shoring, Bergamo, Edizioni Universitarie di Lettere Economia e Diritto, 2008.
Bienkowska J.K., "Il protezionismo e l'industria Ue", 2017, https://www.ilsole24 ore.com/art/il-protezionismo-e-l-industria-ue-AE0zpVe.
Bonaccorso N., "Offshoring: cos'è e quali sono le cause della delocalizzazione delle imprese", 27 April 2022, https://manage mentcue.it/offshoring-cosa-e-cause-delocalizzazione-imprese/33418/.
Brundu B., Zone Franche. Sviluppi e orientamenti geoeconomici. La Sardegna al centro del Mediterraneo, Milan, Franco Angeli, 2017.
CeSPI (Centro Studi di Politica Internazionale) (Ed.), "La conferenza internazionale sul clima di Parigi. Gli impegni per l'Italia, l'Europa e il resto del mondo (di Zupi M.)", Osservatorio di Politica Internazionale, 113, 2015.
Confindustria, "Le previsioni per l'Italia. Quali condizioni per la tenuta e il rilancio dell'economia?", 2020a, https://www.conf industria.it/home/centro-studi/temi-di-ricerca/congiuntura-e-previsioni/tutti/ dettaglio/rapporto-previsione-economia-italiana-scenari-geoeconomici-primavera-2020.
Confindustria, "Innovazione e resilienza: i percorsi dell'industria italiana nel mondo che cambia", 2020b, https://www.conf industria.it/home/centro-studi/temi-di-ricerca/tendenze-delle-imprese-e-dei-sistemi-industriali/tutti/dettaglio/scenari-industriali-Italia-2020.
Confindustria, "La manifattura al tempo della pandemia. La ripresa e le sue origini", 2021, https://www.confindustria.it/home/ centro-studi/temi-di-ricerca/tendenze-delle-imprese-e-dei-sistemi-industriali/tutti/ dettaglio/rapporto-scenari-industriali-2021.
Confindustria, "Quick survey tra le imprese associate a Confindustria: effetti pervasivi del conflitto Russia-Ucraina sul sistema produttivo italiano", Nota di Aggiornamento, 2022a.
Confindustria, "L'economia italiana alla prova del conflitto in Ucraina", 2022b, https://www.confindustria.it/home/centro-studi/temi-di-ricerca/congiuntura-e-previsioni/tutti/dettaglio/rapporto-previsione-economia-italiana-primavera-2022.
Consiglio dell'UE, "Il Consiglio adotta l'8º programma di azione per l'ambiente", 2022,
https://www.consilium.europa.eu/it/.
Dachs B. and Kinkel S., "Backshoring of production activities in European manufacturing – Evidence from a large-scale survey", Proceedings of the 20th International Annual EurOMA Conference – "Operations Management at the Heart of the Recovery" (Dublin, 9-12 June 2013), pp. 7-12.
Domenighini H., "Reshoring, alcune ipotesi sugli effetti della pandemia", 2021, https://www.econopoly.ilsole24ore.com/2021/06/01/reshoring-globalizzazione-pandemia/.
EIM (Executive Interim Management), "Reshoring e sicurezza delle filiere, nuova agenda per le imprese", 2022, https://www.il sole24ore.com/art/reshoring-e-sicurezza-filiere -nuova-agenda-le-imprese-AE2AifUB?refresh _ce=1.
Elia S., Fratocchi L., Barbieri P., Boffelli A. and Kalchschmidtd M., "Post-pandemic reconfiguration from global to domestic and regional value chains: the role of industrial policies", Transitional Corporations Journal, 28, 2, 2021, pp. 67-96.
European Commission (EC), "Communication From the Commission to the European Parliament, the European Council, the Council, the European Economic and Social Committee and the Committee of the Regions – The European Green Deal", COM(2019) 640 final, Brussels, 2019.
European Commission (EC), "EU position in world trade", 2021, https://policy. trade.ec.europa.eu/eu-trade-relationships-country-and-region/eu-position-world-trade_en#:~:text=The%20EU%20ranks%20first%20in,a%20little%20over%2020%20countries.
European Parliament, "Post Covid-19 value chains: options for reshoring production back to Europe in a globalised economy", 2021, https://www.europarl.europa.eu/think tank/en/document/EXPO_STU(2021)653626.
Ferrucci L. and Picciotti A., "I distretti industriali italiani tra strategie di offshoring e di back-reshoring", Piccola impresa: Rivista internazionale di studi e ricerche, 1, 2017, pp. 86-109.
Formez, Internazionalizzazione dei sistemi produttivi-Fabbisogni e modelli per la PA, Formez-Ufficio Stampa ed Editoria, 2007.
Forte E. and Miotti D., "Politiche di offshoring e reshoring nelle strategie di sviluppo e crescita del Mezzogiorno", Atti della XXXVI Conferenza scientifica annuale AISRE, (Arcavacata di Rende, 14-16 September 2015), pp. 3-49.
Fratocchi L., Ancarani A., Barbieri P., Di Mauro C., Nassimbeni G., Sartor M., Vignoli M. and Zanoni A., "Motivations of Manufacturing Back-reshoring: An interpretative framework", International Journal of Physical Distribution & Logistics Management, 46, 2, 2016, pp. 98-127.
Gianecchini M. and Campagnolo D., "Oltre le ragioni: tempi e distanza nei processi di reshoring delle imprese italiane", Studi e Pratiche, 2015, pp. 41-66.
Governo Italiano – Presidenza del Consiglio dei Ministri, "Le missioni e le componenti del PNRR", 30 November 2021, https://www.governo.it/it/approfondimento/le-missioni-e-le-componenti-del-pnrr/16700.
IPCC, Climate Change 2007: Impacts, Adaptation and Vulnerability. Contribution of Working Group II to the Fourth Assessment Report of the Intergovernmental Panel on Climate Change, Cambridge University Press, 2007.
Kohut A. and Wike R., "Pew presents... Assessing globalization: Benefits and drawbacks of trade and integration". Harvard International Review, 2008, pp. 70-74.
Langhorne R., The Coming of Globalization, New York, Palgrave, 2001.
Leichenko R.M. and O'Brien K.L., Environmental Change and Globalization: Double Exposures, Oxford University Press, 2008.
Mainolfi G. and Marino V., "Made in Italy e Country Branding: strategie di marca per il sistema Italia", Esperienze d'impresa, 1, 2009, pp. 167-195.
Manolicã A. and Roman T., "Globalisation – Advantages and Disadvantages From The Perspective Of The Manufacturer", CES Working Papers, Centre for European Studies, Alexandru Ioan Cuza University, 4, 4, 2012, pp. 747-757.
Meyer K.E., "International business in an era of anti-globalization", Multinational Business Review, 2017, 25, 2, pp. 78-90.
MISE, Relazione annuale situazione energetica nazionale dati 2019, June 2020.
Noris A. and Sanguineti F., "Reshoring: quali settori interessati? Osservatorio ReValue Chains", in Tentori D., Gili A. and Italia R. (Eds.), Logistica e trasporti: uno sguardo al futuro, ISPI, 2022, pp. 32-36.
OIKOS, "Ambiente, biodiversità e clima: dove stiamo andando? Il grande piano verde dell'Europa verso la sostenibilità", 2021, https://www.istituto-oikos.org/notizie/green-deal.
Orzes G. and Sarkis J., "Reshoring and environmental sustainability: An unexplored relationship?", Resources Conservation and Recycling, 141, 2019, pp. 481-482.
Pérez-Peña M.d.C., Jiménez-García M., Ruiz-Chico J. and Peña-Sánchez A.R., "Transport Poverty with Special Reference to Sustainability: A Systematic Review of the Literature", Sustainability, 13, 1451, 2021, pp. 1-13.
Pietrobelli C., Rabellotti R. and Van Assche A., "Le politiche nelle catene globali del valore", Rivista di Politica Economica. La distanza e l'incertezza. Percorsi della manifattura globale negli anni degli shock sistemici, 1, 2022, pp. 185-213.
Sabatino M. and Talamo G., "Reshoring and resilience in Italy during and after the crisis", American journal of industrial and business Management (AJIBM), 2018.
Savi P., "Trasformazioni recenti della geografia della produzione: il reshoring e la sua diffusione nel contesto italiano", Bollettino della Società Geografica Italiana, 14, 2, 1, 2019, pp. 31-42.
Senate of the Republic, Legislatura 17ª – Dossier n. 52, 2018.
Senate of the Republic, Legislatura 18ª – Dossier n. 2 DE, 2019.
SRM, Italian Maritime Economy. The impact of Covid-19 on maritime transport: strategic routes and global scenarios Intermodality and sustainability as keys to the Italian recovery, 7th Annual Report, Napoli, Giannini Editore, 2020.
TCC Italia, "Filiera sostenibile", 2020, https://www.tccitalia.it/filiera-sostenibile/.
UNCTAD, "Impact of the Pandemic on Trade and Development: Transitioning to a new normal", 2020, https://unctad.org/system /files/official-document/osg2020d1_en.pdf.
Unione Europea, "Accordo di Parigi sui cambiamenti climatici", 2015, https://www. consilium.europa.eu/it/policies/climate-chanWatsonge/paris-agreement/.
Zamagni V., L'economia italiana nell'età della globalizzazione, Bologna, Il Mulino, 2018.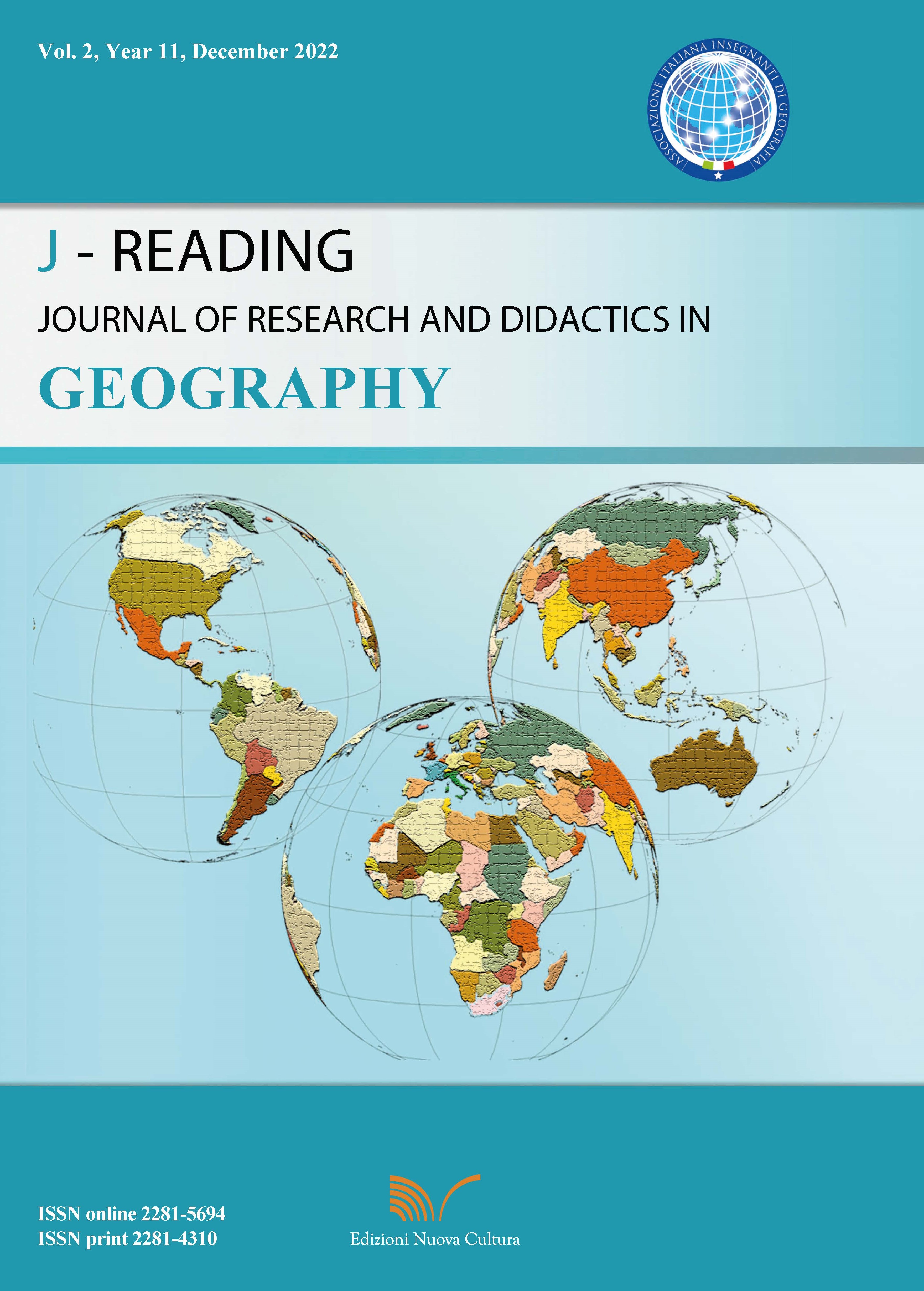 Downloads
Section
Topics on Geography of Transport and Logistics ed. by Borruso, Mazzarino, Tadini
License
The Author assigns to the Nuova Cultura and to Italian Association of Geography Teachers all rights under copyright that can exist in and to the submitted paper. The Author warrants that the paper and images (photos, maps, graphs etc.) are original and that he/she is the Author of the submitted contribution and its parts; in the case of images taken by other publications, the Author must provide a specific authorization and must pay in advance any copyright.

This work is licensed under a Creative Commons Attribution 4.0 International License.