Eurafrica: critical readings of a cartographic vision of power
Abstract
The study intends to analyze the concept of Eurafrica coined by geographer Paolo D'Agostino Orsini di Camerota, a contemporary of the fascist era. The expression Eurafrica begins to circulate in the collective imaginary with the spread of the Geopolitica (Geopolitics) journal that, through the geographical maps, postcards and the photographs inserted within the pages, legitimized an expansion of politics towards Africa. The myth of the creation of a "Third Rome" and the geographical position of Italy in the center of the Mediterranean were the determining factors that justified a strategy of cultural and territorial appropriation of those places. In this context, the cartographic representation of Eurafrica was one of the images that best talked about the way in which Italian geopolitics thought of the external projection of the country.
References
Acquarelli L., "Cartografia come potere nella propaganda imperiale fascista", Saggi di studi culturali, 8, 2, 2011, pp. 177-202.
Almagià R., "Gli indirizzi attuali della geografia e il Decimo Congresso geografico nazionale", Nuova Antologia, 1927.
Antonsich M., "Eurafrica. Dottrina Monroe del Fascismo", Limes. Rivista italiana di Geopolitica, 3, 1997.
Antonsich M., "Geopolitica: The Geographical and Imperial Consciousness of Fascist Italy", Geopolitics, 14, 2, 2009, pp. 256-277.
Antonsich M, "L'unità mediterranea nelle rappresentazioni geopolitiche del ventennio fascista", Geotema, 1998, pp. 100-107.
Arrigoni P. and Bertarelli A., Le carte geografiche dell'Italia, in the Raccolta delle Stampe e dei Disegni, Milan, 1930.
Atkinson D., Geopolitics and the geographical imagination in Fascist Italy, Loughborough University's Institutional Repository, Loughbotough, 1995.
Atkinson D., "Geopolitics, Cartography and Geographical Knowledge: Envisioning Africa from Fascist Italy", in Bell M., Butlin R.A. and Heffernan M. (Eds.), Geography and Imperialism, 1820-1940, Manchester, Manchester University Press, 1995, pp. 265-297.
Wolfflin H., "Sullo sviluppo della forma", in Mazzocut-Mis M. (Ed.), " I percorsi delle forme: testi e teorie", Mondadori, Milan, 1998, pp. 102-115.
Boria E., "La concretezza dell'immaginario e i poteri della carta geografica", Pólemos. Materiali di filosofia e critica sociale, 11, 2, 2018, pp. 15-38.
Boria E., La storia della cartografia in Italia dall'Unità ad oggi. Tra scienza, società e progetti di potere (The history of cartography in Italy from Unification to nowadays. Between science, society and projects for power), Novara, UTET Università, 2020.
Braun E., Mario Sironi, arte e politica sotto il fascismo, Turin, Bollati Basic Books, 2003.
Cosgrove D., "Cultural geography: maps and mapping in cultural geography", Annales de géographie, 660 -661, 2008, pp. 159-178.
Coudenhove-Kalergi R.N., "Afrika", Pan-europa, 5, 1929.
D'Agostino Orsini di Camerota P., "Africa spazio vitale dell'Europa", L'Universo, 2, 1953.
D'Agostino Orsini di Camerota P., Caratteri geofisici, geopolitici interni e geoeconomici dell'Africa orientale italiana, Rome, Istituto Poligrafico di Stato, Libreria, 1940.
D'Agostino Orsini di Camerota P., Che cosa è l'Africa, Rome, Cremonese editore, 1936.
D'Agostino Orsini di Camerota P., Dal Mediterraneo al Golfo di Guinea, Rome, Cremonese editore, 1931.
D'Agostino Orsini di Camerota P., Espansionismo italiano odierno, Salerno, A. Manzoni editore, 1923.
D'Agostino Orsini di Camerota P., "Gli africani e la Comunità Economica Europea. I grandi spazi geoeconomici e l'Eurafrica", L'Universo, 3, 1957.
D'Agostino Orsini di Camerot a P., Gli ordinamenti fondamentali dell'Africa orientale italiana, Rome, Istituto Coloniale Fascista, 1937.
D'Agostino Orsini di Camerota P.Italia ed Etiopia, Rome, USILA, Soc. Anon. Editore, 1935.
D'Agostino Orsini di Camerota P., La colonizzazione africana nel sistema fascista: i problemi della colonizzazione dell'Africa italiana, Milan, F.lli Bicocca, 1941.
D'Agostino Orsini di Camerota P.,"L'eco-nomia dell'Africa francese, l'autonomia economica e l'Eurafrica", Rassegna Economica dell'Africa Italiana, 1940.
D'Agostino Orsini di Camerota P., Le colonie italiane: con appendice sulle isole italiane dell'Egeo, Rome, Cremoneseeditore, 1932.
D'Agostino Orsini di Camerota P., L'Italia nella politica africana, Bologna, L. Cappelli editore, 1926.
D'Agostino Orsini di Camerota P., "Un continente di domani: l'Eurafrica. L'Europa e l'Africa prima della II guerra mondiale", in Gordon R. (Ed.), Africa. Realtà di un continente, De Agostini editore, 1980.
Gagliardi A., "La mancata 'valorizzazione' dell'Impero. Le colonie italiane in Africa orientale e l'economia dell'Italia fascista", Storicamente, 12, 1, 2016, pp. 1-32.
Gozzi G., "Eurafrica: il paradigma dell'ordine europeo", Politics, 8, 2, 2017, pp. 21-33.
Kitchin R., Perkins C. and Dodge M.C., Thinking about maps, in Id., RethinkingMaps.New Frontiers in Cartographic Theory, London-New York, Routledge, 2009, pp. 1-25.
Mangani G., "Mapping and performative strategies. Cartography as a persuasive tool", in Gigante E. (Ed.), Visible. L'hétérogénéité du visuel. Diagrammes, cartes, schemas graphiques, Limoges, Presses Universitaire Limoges, 4, 2008, pp. 109-120.
Mirzoeff N. (with the collaboration of Camaiti Hostert A.), Introduzione alla cultura visuale, Milan, Meltemi, 2021, pp. 27-99.
Pennisi P., "Il concetto politico di Eurafrica", Rivista di studi internazionali, 9, 1, 1942.
Perrone A., "Mare Nostrum e "Geopolitica". Il mito imperiale dei geografi italiani", Diacronie – Studi di storia contemporanea 25, 1, 2016, pp. 1-21.
Pignatti L., Mind the map: mappe, diagrammi, dispositivi cartografici, Milan, Postmedia Books, 2011.
Roletto G., "La geografia come scienza utilitaria. Discorso inaugurale dell'A.A. 1928–29",Trieste, Regia Università degli Studi economici e commerciali di Trieste, 1929.
Rossetto T ., "Semantic ruminations on 'post representational cartography'", International Journal of Cartography, 2015, 1, 2, pp. 151-167.
Stafford B.M., Good looking: essays on the virtue of images, Cambridge, Mit Press, 1996.
Steffek J. and Antonini F., Towards Eurafrica! Fascism, Corporativism and Italy's Colonial Expansion, Technische Universität Darmstadt / Università di Pavia, I. Hall Publisher, 2015, pp. 145-169.
Sturani M.L., "I giusti confini dell'Italia: la rappresentazione cartografica della Nazione", Contemporanea,I, 3, 1998, pp. 427-446.
Sturani M. L., "Le rappresentazioni carto-grafiche nella costruzione delle identità territoriali: materiali e spunti di riflessione dalla prospettiva di storia della cartografia", in Blanco L. (Ed.), Organizzazione del potere e territorio. Contributi per una lettura storica della spazialità, Milan, FrancoAngeli, 2008, pp. 189-231.
Thorpe B., Eurafrica: a Pan- European vehicle for central European colonialism (1923-1939), Nottingham (UK), University of Nottingham Press, 2018, pp. 503-513.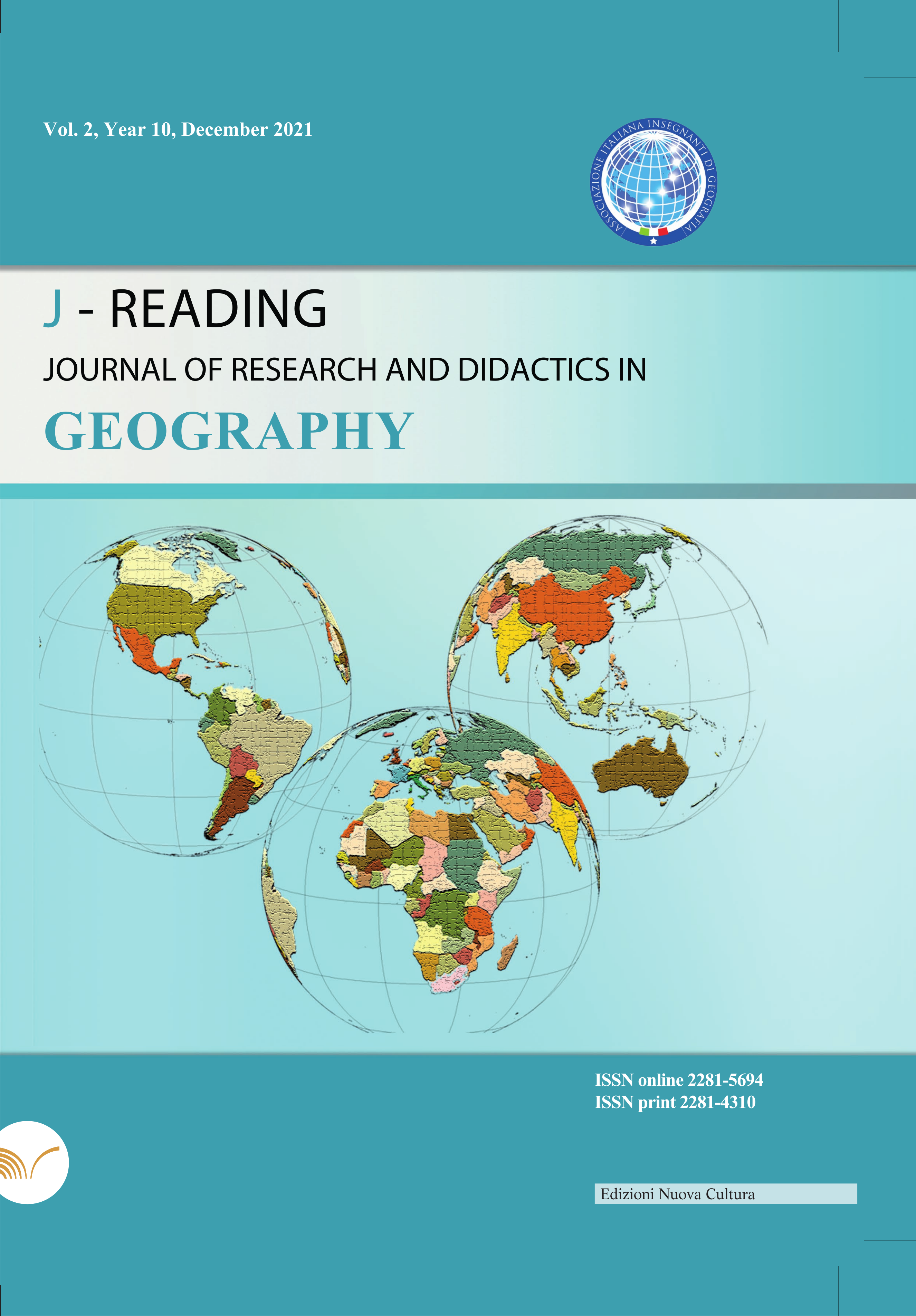 Downloads
Section
Mapping societies (ed. by Edoardo Boria and Tania Rossetto)
License
The Author assigns to the Nuova Cultura and to Italian Association of Geography Teachers all rights under copyright that can exist in and to the submitted paper. The Author warrants that the paper and images (photos, maps, graphs etc.) are original and that he/she is the Author of the submitted contribution and its parts; in the case of images taken by other publications, the Author must provide a specific authorization and must pay in advance any copyright.

This work is licensed under a Creative Commons Attribution 4.0 International License.