Maps for Teaching, Teaching to Map. Digital Tools and Didactic Workshop Models for a Geo-Cartographic Analysis of "Lived Space"
Abstract
The paper aims to present the main outcomes of two Didactics of Geography laboratory courses held at the Free University of Bozen-Bolzano and Roma Tre University. Both relied on the same methodological approaches and analytical digital tools (Google MyMaps) and aimed at understanding and digitally mapping students' different perceptions of urban space. The analysis will focus on the processes that enabled students to acquire pieces of information and useful data on their own, as well as to gain more indepth knowledge of their territory. Such processes entailed the use of digital technologies for the graphical representation of geographical space. By presenting two extremely different case studies, the purpose is not to draw a comparison between two different spatial contexts, in order to understand in which of them the application of the presented theoretical and methodological approach would be more successful. The study rather focuses on evaluating the effectiveness of such methodology when it is used at different scales. Furthermore, the goal is to acknowledge the shades, similarities and differences of different spatial perceptions by peers who come from different parts of the country.
References
Albanese V., "La sentiment analysis a supporto della ricerca geografica. Un esempio applicativo per il turismo salentino", Semestrale di Studi e Ricerche di Geografia, 1, 2017, pp. 15-27.
AlmaLaurea, XXII Indagine (2020). Profilo dei Laureati 2019, Bologna, Consorzio interuniversitario AlmaLaurea, 2020.
Amato F., "Tra spazio, società e territorio. Il ruolo della geografia sociale nella comprensione dei luoghi marginali nella città in trasformazione", Bollettino della Società Geografica Italiana, XIII, II, 2009, pp. 137- 149.
Azzari M., Zamperlin P. and Landi F., "GIS in Geography Teaching", J-READING (Journal of Research and Didactics in Geography), 2, 2, 2013, pp. 27-42.
Bailly A., "Distances et espaces: vingt ans de géographie des representations", L'Espace géographique, 14, 3, 1985, pp. 197-205.
Bignante E., "Guardare attraverso gli occhi degli altri", Geotema, 41, 2010, pp. 39-49.
Bignante E., Geografia e ricerca visuale, strumenti e metodi, Bari-Rome, Laterza, 2011.
Bonavero P., L'approccio transcalare come prospettiva di analisi. Il contributo della geografia alla ricerca economica e sociale, Milan, Educatt, 2005.
Borruso G., "Gli strumenti di informazione geografica nella didattica della cartografia", Bollettino dell'Associazione Italiana di Cartografia, 129-130-131, 2007, pp. 115-130.
Borruso G., "Web 2.0 and Neogeography. Opportunities for teaching geography", JREADING (Journal of Research and Didactics in Geography), 2, 2, 2013, pp. 43-55.
Brusa C., "Globalizzazione, immigrazione straniera e "geografie" della cittadinanza e dell'esclusione", Bollettino della Società Geografica Italiana, XII, V, 2000, pp. 631- 638.
Casagrande G. and Carpineti C., "Nuove tecnologie per un Atlante dei landmark minori", in Salvatori F. (Ed.), L'apporto della Geografia tra rivoluzioni e riforme. Atti del XXXII Congresso Geografico Italiano (Rome, 7-10 giugno 2017), Rome, AGEI, 2019, pp. 157-166.
Casti E., Cartografia critica. Dal topos alla chora, Milan, Edizioni Angelo Guerini e Associati, 2013.
Cirio F., Mandirola V., Marchioro C. and Sinagra Brisca L., "Il linguaggio dei luoghi: metodi visuali per la comprensione dello spazio vissuto", in Alaimo A., Aru S., Donadelli G. and Nebbia F. (Eds.), Geografie di oggi. Metodi e strategie tra ricerca e didattica, Milan, FrancoAngeli, 2015, pp. 223-237.
Clary M., Dufau G., Durand R. and Ferras R., Cartes et modèles à l'école, Paris, Reclus Maison de la Géographie, 1987.
Claval P., "Methodology and geography", Progress in Human Geography, 5, 1, 1981, pp. 97-103.
Dai Prà E. and Mastronunzio M., "La carta storica come laboratorio interdisciplinare: intersezioni metodologiche", in Gemignani C.A. (Ed.), Officina cartografica. Materiali di studio, Milan, FrancoAngeli, 2017, pp. 233-245.
D'Ascenzo A. and Gallia A., I luoghi di Roma Tre. Carta delle sedi e dei servizi principali, Rome, Labgeo Caraci, 2017.
Dati e fatti. Le statistiche UniBz, Bolzano, Università di Bolzano, 2020, https://www. unibz.it/it/home/profile/.
Davis A., "Experiential places or places of experience? Place identity and place attachment as mechanisms for creating festival environment", Tourism Management, 55, 2016, pp. 49-61.
Dematteis G., "La geografia come costruzione di metafore", Caffè Europa, 2001, http://www.caffeeuropa.it/attualita03/196geogr afia-dematteis.html.
Dematteis G., "Metro-montagna: una città al futuro", Storicamente, 8, 2012, https://storica mente.org/quadterr2/dematteis.htm.
De Vecchis G., "I Sistemi Informativi Geografici e le nuove tecnologie nella didattica della geografia", Semestrale di Studi e Ricerche di Geografia, 1, 2007, pp. 3-5.
De Vecchis G., Didattica della Geografia. Teoria e prassi, Turin, UTET, 2011.
De Vecchis G. and Fatigati F., Geografia generale. Un'introduzione, Rome, Carocci, 2016.
De Vecchis G. and Morri R., Disegnare il mondo, Rome, Carocci, 2010.
De Vecchis G., Pasquinelli d'Allegra D. and Pesaresi C., Didattica della geografia, Turin, UTET, 2020.
Di Méo G. and Buléon P., L'espace social, lecture géographique de des sociétés, Paris, A. Colin, 2005.
Di Santo M.R. and Landi L., Lo spazio intorno a noi. Insegnare geografia nella scuola primaria, Rome, Carocci, 2007.
Dodge M., Kitchin R., and Perkins C., (Eds.), Rethinking Maps. New Frontiers in Cartographic Theory, London, Routledge, 2011.
Donert K. (Ed.), Higher education GIS in Geography: a European perspective, Liverpool, Hope University, 2005.
Farinelli F., La crisi della ragione cartografica, Turin, Einaudi, 2009.
Frémont A., La Région, espace vécu, Paris, Flammarion, 1976.
Gemmiti R., "L'area metropolitana. Rischi e opportunità di un concetto da reinventare", Rivista Geografica Italiana, 126, 2, 2019, pp. 5-22.
Giorda C., Il mio spazio nel mondo. Geografia per la scuola dell'infanzia e primaria, Rome, Carocci, 2014.
Giorda C. and Puttilli M., Educare al territorio, educare il territorio. Geografia per la formazione, Rome, Carocci, 2011.
Grava M., Berti C., Gabellieri N. and Gallia A., Historical GIS. Strumenti digitali per la geografia storica in Italia, Trieste, EUT, 2020.
Guadagno E., "Sky in the Room: Maps from Quarantine", J-READING (Journal of Research and Didactics in Geography), 1, 2021, pp. 39-51.
Ietri D., "La competitività delle città di piccola e media dimensione e il riordino territoriale. Casi di studio europei in aree transfrontaliere", Geotema, 57, 2018, pp. 25-31.
ISTAT, Forme, livelli e dinamiche dell'urbanizzazione in Italia, Rome, Istituto nazionale di statistica, 2017.
Kresl P.K. and Ietri D., Smaller Cities in a World of Competitiveness, London and New York, Routledge, 2016.
Lewicka M., "What makes neighborhood different from home and city? Effects of place scale on place attachment", Journal of Environmental Psychology, 30, 1, 2010, pp. 35-51.
Lynch K., L'immagine della città, Venice, Marsilio, 2013.
Manning A., "A personal journey through the world of GIS, teaching and development of students' core knowledge", J-READING (Journal of Research and Didactics in Geography), 1, 2, 2013, pp. 33-45.
Marta M. and Osso P., "Story Mapsat school: teachingand learning stories with maps", JREADING (Journal of Research and Didactics in Geography), 2, 4, 2015, pp. 61-68.
Miani Uluhogian F., "Spazio urbano e immigrazione in Italia: nuovi problemi e metodi interpretativi", in Cerreti C. and Taberini A. (Eds.), Ambiente geografico, storia, cultura e società in Italia, Rome, Il Cubo, 1998, pp. 213-220.
Morri R., "Lo spazio dell'assenza: geografia e didattica a distanza di massa", Documenti Geografici, 1, 2020, pp. 199-218.
Pasquinelli D'Allegra D., La geografia dell'Italia. Identità, paesaggi, regioni, Rome, Carocci, 2009.
Pesaresi C., "Punti di contatto tra informatica e geografia: approcci e nuovi orizzonti didattici per la scuola", Semestrale di Studi e Ricerche di Geografia, 1, 2007, pp. 9-60.
Pesaresi C., "Le geotecnologie per una didattica costruttiva-interdisciplinare e per un approccio cooperativo", in De Vecchis G., Insegnare geografia. Teoria, metodi e pratiche, Turin, Utet Università, 2016, pp.113-133.
Piano strategico per la didattica. Monitoraggio 2018-2020, Rome, Università Roma Tre, 2020, https://www.uniroma3.it/ ateneo/programmazione/.
Portugali J., Complexity, Cognition and the City, Berlin, Springer, 2011.
Ricciardi S., "Lo spazio rappresentato", in Persi P. (Ed.), Spazi della geografia. Geografia degli spazi. Tra teoria e didattica, Trieste, Edizioni Goliardiche, 2003, pp. 85- 114.
Roberts M., Geography Through Enquiry: Approaches To Teaching And Learning In The Secondary School, Sheffield, The Geographical Association, 2013.
Salgaro S., "La cartografia nella didattica e nella formazione", Bollettino dell'Associazione Italiana di Cartografia, 129-130-131, 2007, pp. 11-38.
Sarno E. and Fischetti L., "Una nuova didattica per la Cartografia", Educazione&Scuola, 2020 https://www.edscuola.eu/wordpress/?p=129736.
Thwaites K., and Simkins I., Experiential Landscape. An Approach to People, Place and Space, London, Routledge, 2006.
Torricelli G.P., Potere e spazio pubblico urbano. Dall'agorà alla baraccopoli, Milan, Academia universa press, 2009.
Tuan Y., "Place: An Experiential Perspective", Geographical Review, 65, 2, 1975, pp. 151- 165.
Turri E., Il paesaggio come teatro. Dal territorio vissuto al territorio rappresentato, Venice, Marsilio, 2001.
Zaccomer G.P. and Bressan G., "Can University Students Provide High-Quality Geoinformation? First Results of an Empirical Study", Bollettino dell'Associazione Italiana di Cartografia, 168, 2020, pp. 94-106.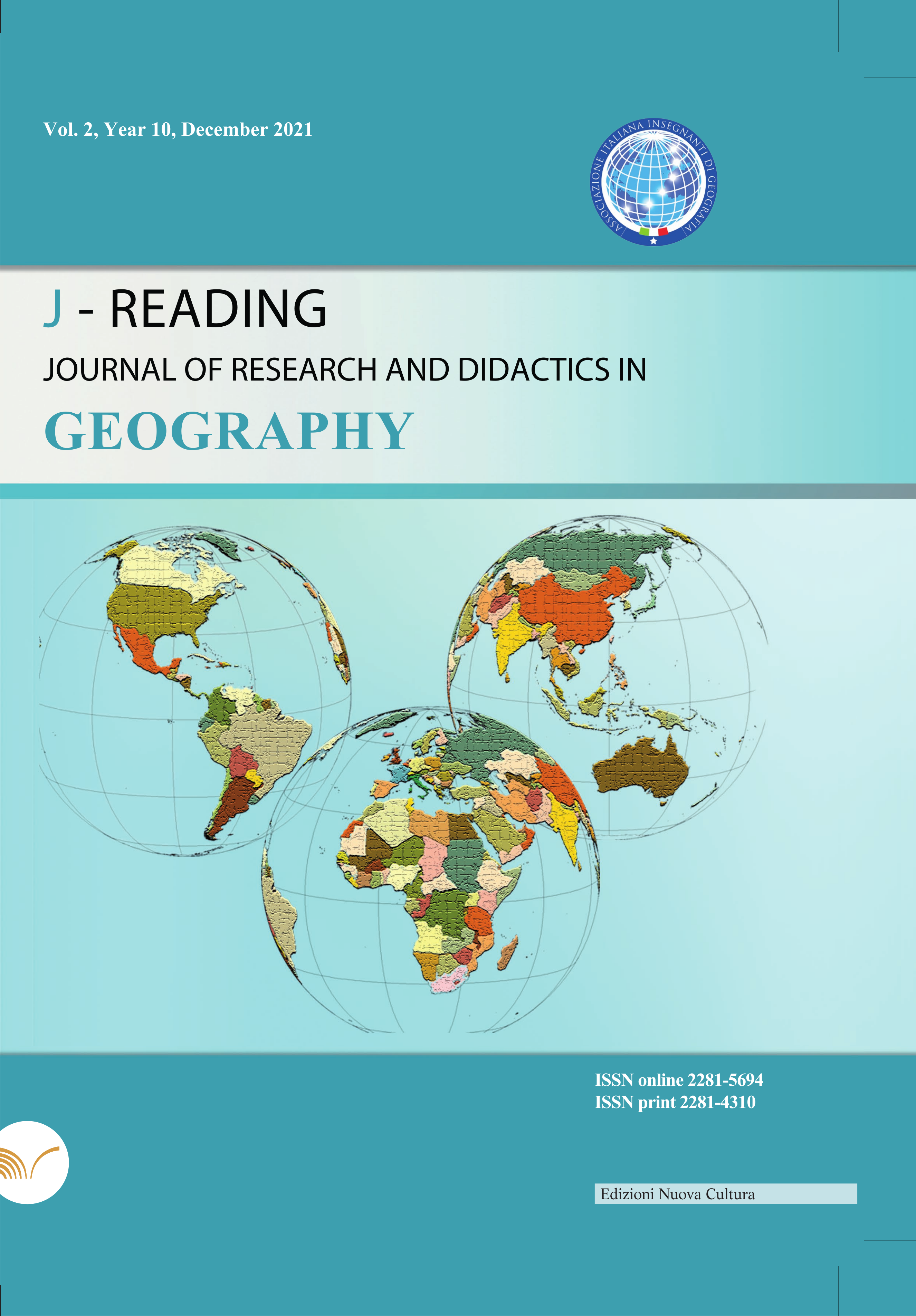 Downloads
License
The Author assigns to the Nuova Cultura and to Italian Association of Geography Teachers all rights under copyright that can exist in and to the submitted paper. The Author warrants that the paper and images (photos, maps, graphs etc.) are original and that he/she is the Author of the submitted contribution and its parts; in the case of images taken by other publications, the Author must provide a specific authorization and must pay in advance any copyright.

This work is licensed under a Creative Commons Attribution 4.0 International License.